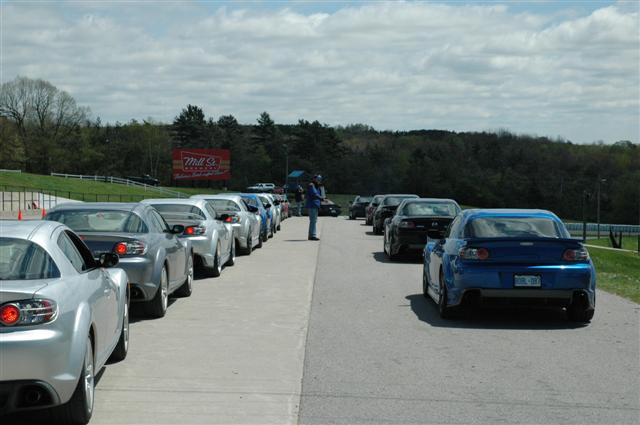 A big part of our racing every year is to help raise money for various charities. This year we held 3 seperate events, 2 at Mosport with BEMC (British Empire Motorsports Club) and Mazdaspeed North at Scarboro Mazda. Between the 2 Mosport events we raised over $1500.00 for Sick Childrens Hospital in Toronto. The local RX8 club came out in numbers to help support the events!
JULY 28 2012
ABR was out and hlped raise over $2000.00 for the Durham Region Childrens Aid Society! We took passengers around the GP track at Mosport and then had 2 15 Minutes races with the passengers inside our cars!! Was a fantastic event!
SEPT 16 2012
With the help of Mitsubishi Canada (loaning us a 2011 Lancer EVO), BEMC, ABR and the RX8 club raised $775.00 for Sick Kids hospital by doing our high speed lunch time lapping at the BEMC INdian Summer Trophy Races!
CHILDRENS WISH
Saturday October 6 2012 ABR will be at Mosport in the 01 RX7..............with a passenger seat in it! This is your last chance to go for a ride of a lifetime around North America's fastest race track! The morning sessions are reserved for the "Childrens Wish" kids and families then the afternoon is for everyone else who wished to make a donation and come for a ride!